Just in case you didn't immediately get the Disney excerpt
I dropped just now.
I do. I really do. It's a golden Monday night for me, and I think I'm feeling cheeky enough to tell you and the woman with no face breathing over your shoulder right now why I feel absolutely triumphant. That is, if you can keep a secret. I'm going out on a limb on our purely virtual and impersonal relationship right now by entrusting you with something I've been gushing over for the past 3 hours. There's been so much gushing, in fact, that out of sheer
kilig
and giddiness, I've gone to the bathroom to pee approximately five times in those 3 hours. That's a lot! I've probably lost you, but I do believe there's a tangible connection between the butterflies in my stomach and the sphincter that regulates my urine.
Don't believe me? Ask the dishes!
See, there's this guy... whom I won't name because if I do, his name will ring a multitude of bells in your Filipino brain, then I'd get caught in a crap storm of issues and unwarranted attention, and I just don't want to make an ugly mess of things. Anyway. So there's this guy... whom I've always kind of had a - and in the most shallow sense of the word - crush on since I was a kid. (OH DEAR GOD, LET THIS ENTRY BE RIDICULOUSLY VAGUE.) Long story short, I finally met him in the flesh a few weeks ago, and just a few hours ago, I find out he digs me.
BOOYAH! Please accept this virtual high five which then evolves into a Bro shoulder hug with complimentary Bro pat on back.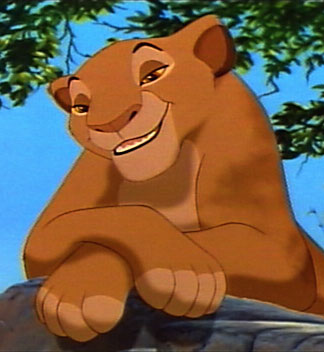 Sarabi. See how she does NOT
look like Nala?
So that's basically the reason why I feel like a champ tonight. I feel like I went from plain Jane, ordinary member of Pride Rock, to freakin' alpha female Sarabi. Now, if you can't remember who Sarabi is, she's Mufasa's wife. No, she does not look like Nala. It's like comparing Meryl Streep with Amanda Seyfried - not even on same planes.
At this point, I've noticed I've made two Disney references in the last 10 minutes. Is this my thing when I'm giddy? I regress? Oh, and I type fast too. Hot damn, I should be this annoyingly happy more often. I'd get more work done.
No wisdom or ruminations for this entry, I'm afraid. I just felt the need to rapidly depress the buttons on my laptop to disperse all this extra energy. Goodness knows I
need
a nap if I wanna catch my show later after ABS-CBN's news and current affairs programs, which by the way, always end up pushing CGE TV In Da Loop one hour later. We're on our second week, and so far, the support's been amazing and I keep getting so much positive feedback from everyone. I am in love with the feeling of knowing I get to bring a tiny ray of sunshine into viewers' frustrating bouts of insomnia, no matter how
sabaw
our show can get at times. Hahaha!
Tune in every weeknight around 1am, after Channel 2's news and current affairs programs!
'Til my next entry! Ciao!
P.S. If you want me to write about something, feel free to suggest. Nothing too heavy though. I don't like going on about politics, religion, or anything that will make me come off as remarkably well-versed in grown-up matters. I now end this post script with an immature teehee to prove my point. Teehee! ;)